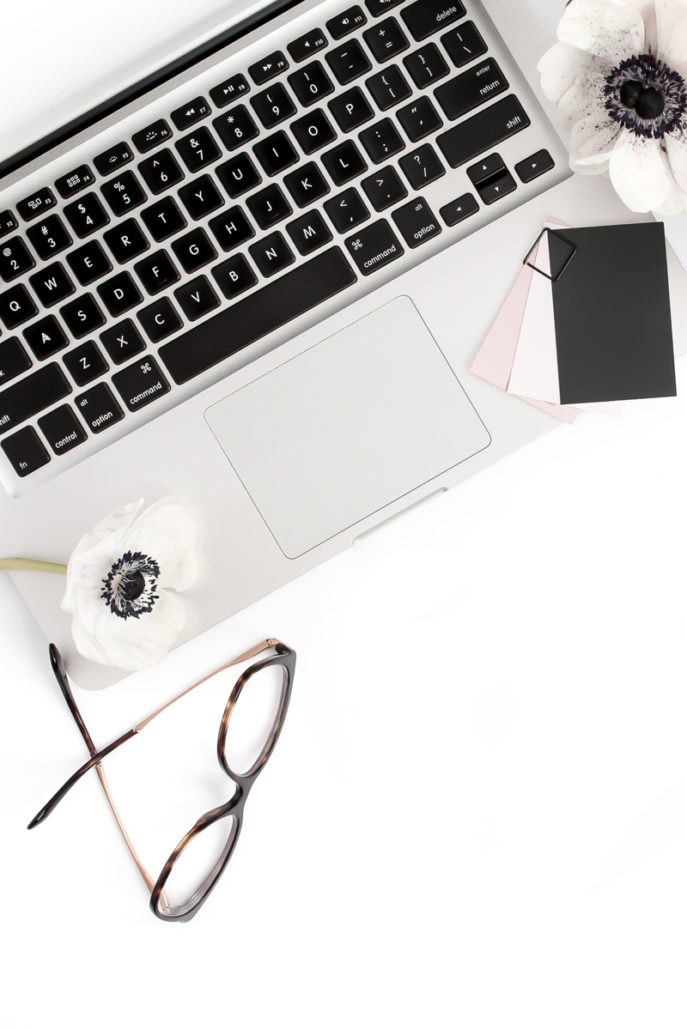 Check this out!
I'm right smack in the middle of a launch with my ridiculously awesome client, Rachel Luna, who is…well, ridiculously awesome.
And since people ask me every single day what strategies to use for list building, generating buzz and launching, I thought it would be fun to share what Facebook™ ads strategies we've used for her launch.
A little backstory: Rachel made more than $90,000 last year in affiliate commissions. Yep, $90,000 for marketing other people's products and programs. She's a self-proclaimed course junkie and clearly super smart as she decided it was time to get PAID for all those courses she was taking. And, of course, everyone wanted to know how she did it, so she then created a course of her own (like I said, super smart!). Her course is called Profit Without Products if you want to check it out.
Alright, so let's talk strategy.
Pre-Launch:
Free Guide: The first thing we did was run Facebook™ ads to a free guide about affiliate marketing. The goal here was to test out some different target audiences and see who would respond best to the topic. If you're not familiar with internet marketing, running ads to a free something or other (coupon code, PDF, cheatsheet, checklist, template, etc.), allows us to collect a prospects name and email address in exchange for the freebie. It's also a great way to build custom audiences (pools of warm leads inside Facebook™ who have virtually raised their hand to say they're interested) of people we could then market to during the launch. And finally, running ads to a freebie also allowed us to test ad images and different copy variations to see which resonated most with Rachel's target audience.
So, the moral to this piece of the launch story is testing and gathering leads (that are now no longer cold) to market to during the launch.
Here is a copy of one of the free guide ads: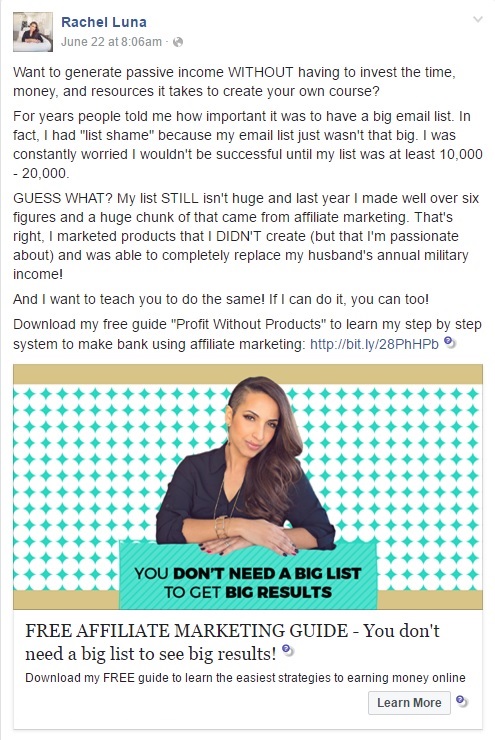 LAUNCH
Webinar: Rachel hosted 3 webinars, at the end of which she pitched her Profit Without Products program. So, my strategy for the webinar ads was multi-fold. I targeted several interests that I thought would dig the webinar topic (these were cold leads). I also retargeted the people who opt'd in for the free guide to invite them to the webinar. And then I was able to create what's called a Lookalike audience (an audience of people that Facebook builds for you who "behave" similarly to your other audiences). So our Lookalike audience was made from the people who opt'd in to the free guide. And although Rachel has a healthy email list, we decided it didn't make sense to target them because this was completely new subject matter for her.
We ended up having almost 1200 people register for the webinars!
Cart Open: The strategy for this portion of the launch was 2 fold. We started with a video ad that served several purposes:
1. It let people get to know Rachel
2. It allowed her prospects to hear more about her offering (the course)
3. It drove people to the sales page (for the course)
4. It built custom audiences that we could then retarget with additional ads.
You can see the video here (it's rad!):
Then we followed up with a retargeting ad (retargeting is when you digitally follow up with someone you know has shown some interest in your topic). So, almost immediately after someone saw the video talking more about Rachel and her program, they'd see a follow up ad directing them to the sales page. This is super effective. You want to stay top of mind. I talk about this a lot. With all the distractions we face every single second, you really have to give people a second chance to perform your desired action.
**Ninja trick alert – Because we ran a video ad first, we were able to build custom audiences of people who watched a certain percentage of the video. So, I have a pool of leads I KNOW watched 95% of the video ad (i.e. they're interested in hearing about the topic of generating money using affiliate partnerships).
Here is 1 version of the retargeting ads: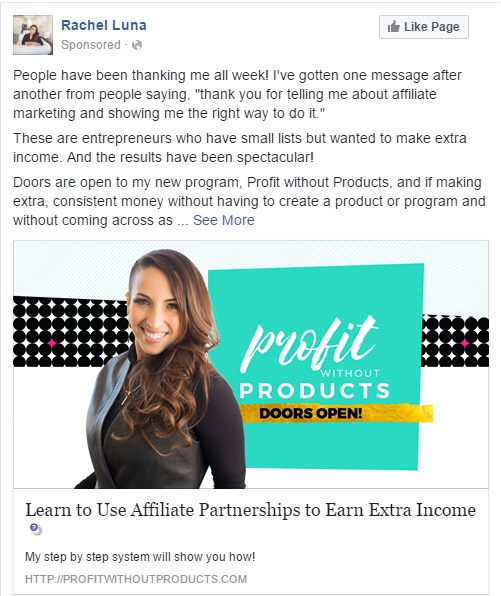 So, to recap, here is how the flow went:
Phase 1:
Ads > free guide (list building, testing targets/language/images, and building custom audiences)
Phase 2:
Ads > webinar (we did both a video ad here and then retargeting with a still image ad inviting to the webinar)
Phase 3:
Retargeting ads > sales page (this was a video educating our audience about Rachel and the program)
Retargeting ads > sales page (following up with all warm leads to let them know "enrollment is open," "fast action bonuses ending" and "doors are closing")
There you have it! The results aren't fully in yet as doors close today on her course but suffice it to say, we're already in good shape. I'm super pleased with the ad results thus far! The video ads kicked serious Facebook™ ad ass so if you're not using video ads, you might want to give that a go (like, stat!). And the video ad with a follow up (retargeting) ad is working really, really well for several clients right now.
I loved being a part of this launch and helping to bring Profit Without Products to the world!
YOUR TURN:
What questions do you have? Have you run a launch campaign similar to this? If so, share your experience or post your questions below and I'll try to help!
XOXO,