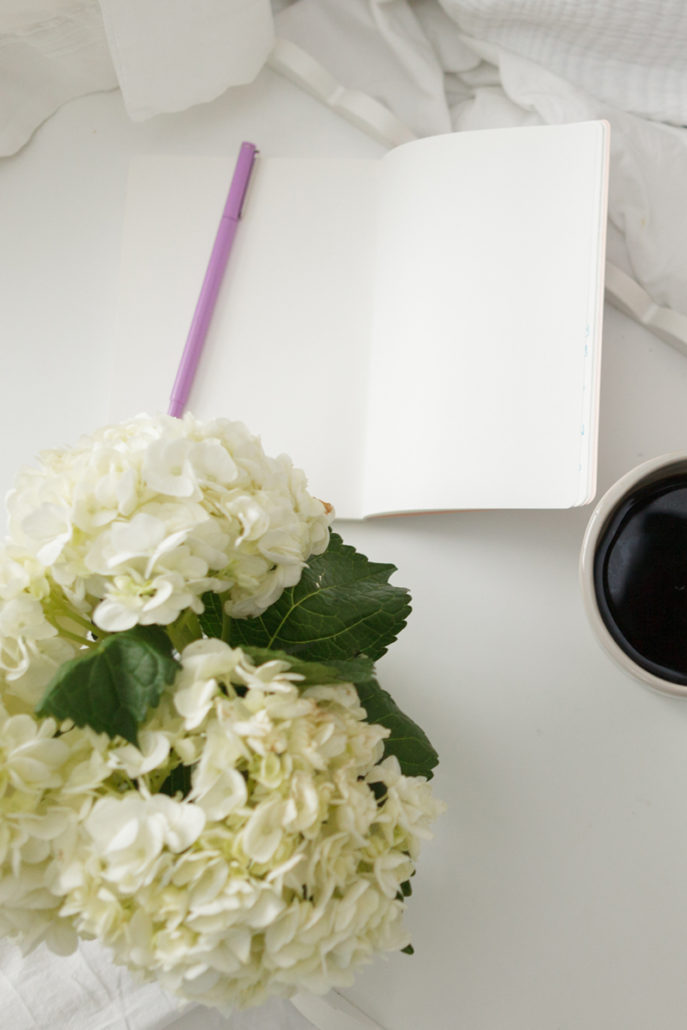 Beauty lies in simplicity.
There's no arguing that, is there?
Don't get me wrong. I definitely admire luxurious things, but in business…???
When it comes to actually achieving something and generating results, all it needs is your unwavering focus, dedication and smarts on ONE specific goal. Simplicity.
And that's the very reason we're on this entrepreneurial roller-coaster together, aren't we?
The drive behind all your business and marketing efforts is one thing and one thing only.
Conversion.
All your work is specifically designed to get more traffic, more leads, more customers (which ultimately helps you have more influence, make more of an impact and of course allows you more income).
And there's one simple action you can take right away to build your brand's authority and convert traffic into warm (Read: Sizzling Hot) leads:
Opt-in Pages.
What is an Opt-in Page? Sometimes called a squeeze page or a landing page, an opt-in page is a stand-alone page where you send visitors in order to produce a conversion behavior.
This could be:
Signing up for your email-list
Buying a low priced offer
Registering for a webinar
Or any other desired action
Now, let me take you on a fun lil' stroll to creating an opt-in page that converts in 10 simple steps. Because while I don't think creating a high converting opt-in page is a tough row to hoe, I DO think that the right approach can make all the difference in the world (no pressure!). Here's an example of a cohesive, well designed opt in page along with a checklist containing the 10 Keys that are outlined in this post (right click and select Save As to download the checklist):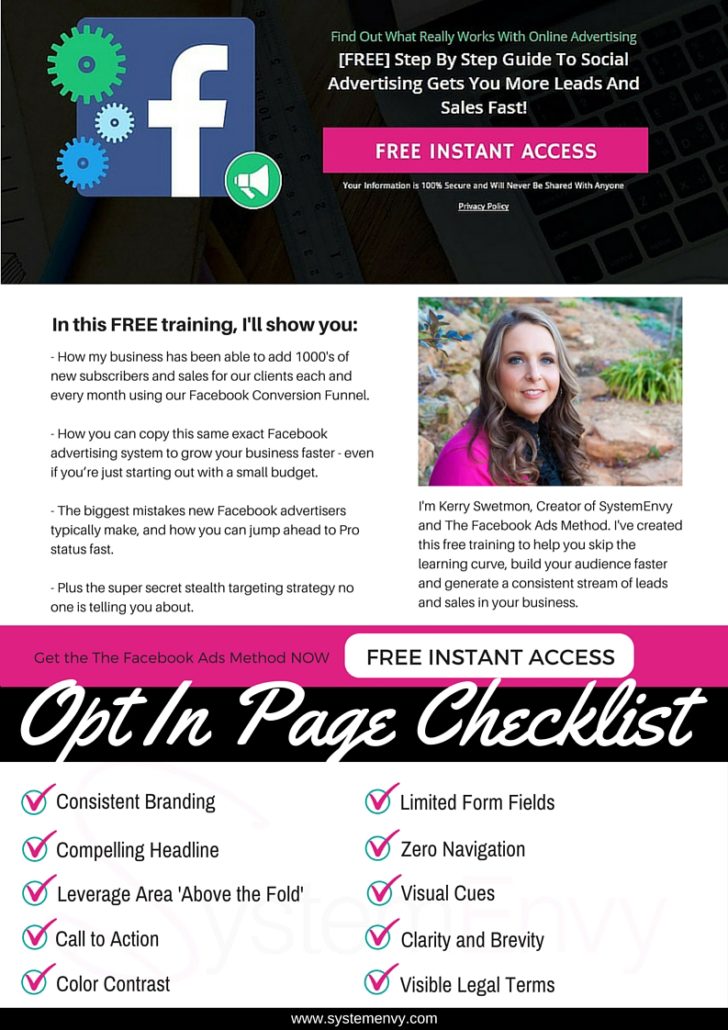 Ok, here we go…
1. THE BRAND FACTOR
Whether you're using ads to generate traffic or organically leading people to your opt-in page through a blog post, interviews, social media…Whatever…Your opt-in page should have an instant sense of recognition. And you can create this comforting vibe by synchronizing the images and copy across the board.  So, if you're running ads, the page should match the ad.  If you're sending people to your opt-in page from a blog post, the two need to "feel" related. Keep your branding consistent.
2. COMPELLING HEADLINE
Often, an attention-grabbing headline alone is enough to reel people in and turbocharge your conversion rate. The headline should:
Capture your audience's attention.
Connect with them immediately.
Create desire for your offer.
And you can do all of the above by writing a benefit-driven headline (instead of highlighting features). Because no matter how great your product is, the truth of the matter is, they don't care (I'm sorry!). Your audience wants to know what's in it for THEM. So tell them right away!
3. LEVERAGE WHAT IS "ABOVE THE FOLD"
"Above the fold" refers to the portion of your website that you see without needing to scroll. So, forget about long narratives and warming people up. Over 50% of your page visitors won't even scroll below the fold. So you need to leverage the power of the section that is above the fold. Write the crux of your message right after the headline.
4. CALL TO ACTION
Give me a clear call and I'll take the right action to reach you. That's a famous saying by…well I just made it up, but you get the idea, right? Unless you tell your visitor what they need to do, they won't do anything. Simple! Give a clear as day Call-to-Action to make it easy for the visitor to take the next step. A few examples might be:
– Sign Me Up
– Get Free Access Here
– Snag Your Free Guide Here
– Hell Yeah, I'm In!
– Notify Me
– Start Your 30-Day Free Trial Today!
Test different button text and see what your prospects respond to.
5. COLOR CONTRAST
Use contrasting colors for text & body design and your call-to-action button. The idea is to break the monotony and highlight the part you want your visitor to notice (Your C.T.A). But remember!! Don't make your design a technicolor vomit (please no). Keep it to maximum of 3 colors.
6. LIMITED FORM FIELDS
Simplicity is better, always! Don't make your visitor think twice before they opt-in for your list or take you up on your offer. The shorter your form, the higher the conversion rate will be. Just asking for their first name and email is enough! (No need to ask tricky questions or be too clever).
7. ZERO NAVIGATION
The path to success isn't straight, but the path to converting a visitor into a subscriber is. Don't distract your reader by tempting them with links, navigation bars and extra clutter. Your job is to keep them focused on your copy with supporting visuals.
8. VISUAL CUES
If done right, visual cues can be very effective when it comes to generating one particular action. The use of arrows and pointers lead the eye where you want it to go, encouraging the final action.
9. CLARITY AND BREVITY
Clear trumps clever. Every freakin' time. You can be as creative with the copy as you want, but don't forget, it's business…NOT your creative writing class. Your copy should be clear and concise. No fluff. No BS. No drama. That's exactly what makes your offer compelling.
10. VISIBLE LEGAL TERMS
THIS! This step is highly unsexy but damn important. Your opt-in page must have legal Terms & Conditions and/or a Privacy Policy section at the bottom. Don't hide it or make it difficult to find. Instead, make it very clear as it can save you lots of headache in the future. And, just a little FYI – Facebook™ asks that these links are visible before advertising on their platform.
In a nutshell, you don't need a special sauce to create a high-converting opt-in page. The magic is in this super simple (PROVEN) format. It all boils down to creating one simple page that flows in terms of design and messaging. And PS, there's no end-all-be-all in opt-in pages. You gotta test and tweak to see what works for YOUR BRAND but this'll give you some guidelines.
Now your turn:
Have you ever created an opt-in page that did super well? Or, one that was a dud? Do you see any of these 10 points that you're forgetting? Tell me in the comments below. I'm waiting! 🙂
xo,